Experience confidence, power and embodiment as a woman that will make you mojolicious®!
WITH YOUR TICKET RESERVATION, YOU GET THESE BONUS ITEMS

INCLUDED FREE

(so you can start rockin' your M.O.J.O right now)
The Four Principles to Rockin' Your M.O.J.O Video Training
$147
Mojo Insider's Q & A Audio Lesson
$47
Ignite Your Mojo Checklist
$27
Reserve your ticket to the IGNITE YOUR MOJO TOUR, plus instant access to all of these bonuses (a $221 value) and only pay $47!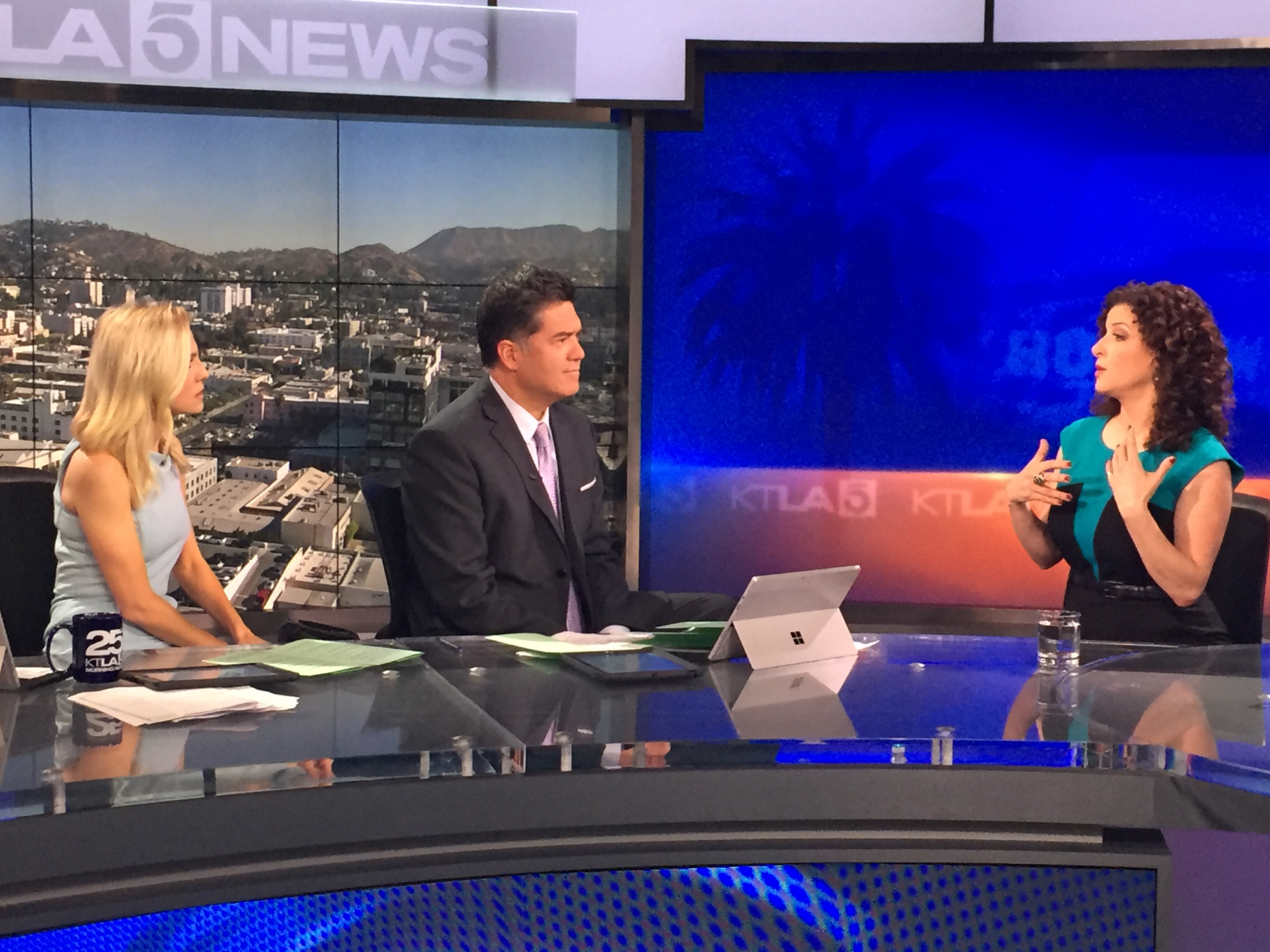 WHY I'M GOING ON TOUR
I created this tour for women who want to step into a life rich with confidence and self-expression, but feel stuck and unsure how to get there.
Each Ignite Your Mojo Tour stop gives you a healthy, simple dose of the exact tools, techniques, mindset and daily rituals that I teach my clients and personally use.
A lot of people are talking about women's empowerment and it being our time….
---
BUT FEW SHARE HOW TO SET UP A PRACTICAL and DO-ABLE SYSTEM THAT CREATES LASTING TRANSFORMATION AND PERSONAL FREEDOM!
---
The information out there still mostly talks about women's empowerment from an outdated, purely masculine model (what I call the masculinization of women).
I saw this happening in my own life many years ago. And I witness it now with the women who come to me for support.
I realized through the last 15+ years of my own experiences and through the Mojo Mentoring with my clients that you must wake up to who you are being in order to authentically and powerfully create your life.
Otherwise, you will run on autopilot and live out of past-based fears, hurts, wounds and traumas. All the things that keep you separated from having the love, abundance and vitality you actually crave.
If you are a woman who knows you're hiding out in some part of your life, I invite you to continue reading with hungry interest.
---
I BELIEVE THERE ARE FOUR PILLARS TO FOCUS ON:
MINDSET

Mindset is the first pillar because our words create our world. And no fabulous outfit, job or relationship will fulfill you if you're living in a consistently negative, disempowering conversation. This includes your inner dialogue and the ones you have out in the world.

ORACLE

Oracle is the second pillar because it is your body and where your true mojo lives (more on this on the tour stops). Unfortunately, most women have experienced some kind of pain, trauma or abuse—hello, #metoo. And the nasty byproduct of that is disassociation, where you divorce yourself from your body and live floating somewhere outside of it. OR you live with chronic issues and pains. All of which perpetuates the disassociation and lack of personal power.

JOIN YOUR ROLES

Joining with your roles is the third pillar because this is where you create delicious, magnetic and empowering self-expression. Most women are trained to live in one or maybe two roles—your professional role and personal one (i.e. Mom, lover, wife, girlfriend, daughter). But you and I both know, you're WAY more than that and when you have spent decades ignoring those other sides of you, it's virtually impossible to find them let alone bring them to life.

OASIS

Oasis is the fourth pillar because it represents your home and the environments where you spend your time. Sadly, most people are still unaware of the impact an environment has on your level of stress and well-being. You have a symbiotic connection to your home and when you know how to work with it, you can boost your mojo for increased vitality, abundance and love.
---
Every decision we make is based out of fear or love. Most of the time, fear wins purely based on habit and repetition. And then you question why you've yet to achieve your true desires in life and feel frustrated by your circumstances.
Many people ask me how I have so much confidence and live as freely as I do. The truth is I've spent the last 25 years dedicated to and investing in personal development, specifically as a woman in the modern world.
This wasn't easy for me, nor did it come naturally. Until I discovered and created the four pillar formula that literally turns the volume dial of your mojo up as high as you want it to go.
---
IF YOU GREW UP ANYTHING LIKE ME,
NO ONE TALKED ABOUT CONFIDENCE OR EMPOWERMENT

, AND THERE WERE NO CLEAR CUT FEMALE ROLE MODELS.
---
It was challenging to know what to do or how to be as a young girl, especially when survival was the name of the game (emotionally, physically, spiritually). But somewhere deep inside I knew there was a way for women to be powerful, seen and heard. And that part of me committed to discovering everything I needed to get there.
In 2003, I realized I became a shell of myself, was at a dead end in my marriage and had no idea what it was going to take to become the woman I knew I truly was buried inside.
I was completely freaked out because I was in the early years of building a Feng Shui consulting business after leaving a prominent job in the film industry. I didn't have a financial cushion (in fact I had a heap of debt). I had to downsize everything and start over. Alone. And clueless about how to show up confidently, personally or professionally.
Life wasn't working and I had to figure out how to transform it. So, I made the commitment to learn everything about what it takes to be a woman of substance. One who is fully confident, comfortable in her own skin and lives a turned on life. And through years and years sitting at the feet of mentors, coaches, teachers and dedication to studying embodiment and the art of being a woman, I learned that you're not living in your fullest self unless you are using the four pillars of M.O.J.O.
The truth is—if I, a pretty 'broken' woman can get there, you can too.
But if you're only skimming by, waking up to do the same things over and over, living in a routine that keeps you safe, small and frustrated instead of asking, what do I truly want to create today? Who do I truly want to be today? It ain't going to magically shift.
---
HERE ARE SOME THINGS TO SERIOUSLY CONSIDER:
---
HOW LONG DO YOU WANT TO WAIT TO FEEL AMAZING IN YOUR OWN SKIN?
HOW WILLING ARE YOU TO RECEIVE YOUR HEART'S DESIRES?
HOW ARE YOU GOING TO INCREASE YOUR SENSE OF SELF WORTH AND CONFIDENCE?
WHO ARE YOU GOING TO SURROUND YOURSELF WITH TO CREATE A LOVING, POWERFUL TRIBE?
---
If you aren't asking yourself these questions, or if you don't have resources and a plan to fulfill the answers, I promise you it won't fall from the heavens into your lap.
These tour stops are chock full with the simple tools, techniques and rituals any woman can utilize. They are things you can do in five minutes a day, anywhere, anytime regardless of your age, size, bank account or background.
Step by step, I show you how you can overcome being stuck, scared and frustrated with your life and get you rockin' your mojo and living the life you desire.
I'm super stoked to meet you at your local tour stop! Let's do this ladies!
XO,

At the IGNITE YOUR MOJO TOUR stop, you will learn:
Your ticket is only $47 for the entire experience PLUS all the bonuses. There's no catch, no further obligations, no funny business.
It is 100% created and dedicated to your empowerment as a woman today, because that is my mission and joy. So much so, that I'm giving a portion of ALL tour stop proceeds to the VDAY Organization, a global effort to end violence to women and girls.
So what's in it for me? Why would I head out on tour?
Because here's the deal. We (and I mean, me and the world) NEED YOU.
We're at a critical time in history.
One where women have more opportunity than ever before.
And still, the scales are imbalanced.
And still, women are silenced.
And still, women are afraid to fully step into their power.
But we don't have the kind of time or luxury to hide anymore.
Your life depends on you rockin' your mojo!
And so do those of your family, friends, community, coworkers, employees and partners.
My full commitment is to midwife the mojolicious® woman in you.
I think you are ready for her to emerge. That's why you're reading this now.
But YOU have to take the action and step towards the information and tools. No one will do that for you.
It is up to you to give yourself this opportunity to access an empowered, engaged and exciting life. One fueled by your true desires, where you are fully self-expressed and confident in your skin everywhere you go. This is yours to claim. But YOU must choose it.
I know it can feel scary, even daunting. Like how in the world can things change at THIS point in life?! I'm living proof that you can. If a girl from a domestically violent home, raped at 15 and turned rebel to cope (who didn't see much hope for the big picture of life) and hundreds of her clients can do it, you can too.
YOU are worthy of being seen, heard and valued. Period. But YOU must first value yourself enough to learn these tools, techniques and rituals to ignite your mojo so you can be a powerful woman in the world and make the difference you were born to make.
IT'S TIME TO IGNITE YOUR MOJO.
Here's Why….
I have never done anything like this before, and I'm not sure I'll ever do it again (it's a massive risk, but you're 100% worth it!).
I am fully committed to your empowerment as a woman, so I am stretching my comfort zone to radically up my game and give to you and the cause that's near and dear to my heart more than I ever have.
I am only coming to a limited amount of tour stops and the opportunity to be in person like this is rare and very special.
Plus, each tour stop has a limited amount of seats available.
For these reasons and more, now is the time to hop on the mojo train and reserve your spot.
MY PERSONAL GUARANTEE TO YOU
My guarantee to you is that these four pillars of M.O.J.O and their corresponding tools, techniques and rituals, when integrated and implemented, will alter your life for the better. Because when you combine accurate awareness with powerful action, you receive your desired results.
These are the exact tools I've cultivated and used, day after day, over the last 20 years that allow me to live big, fully enjoy my life and be a powerhouse for my friends, family, clients and communities instead of being concerned about others opinions and playing small, never achieving my bigger purpose.
---
CLICK THE BUTTON BELOW TO THE CITY NEAREST YOU AND RESERVE YOUR SEAT NOW.
YOU'LL BE SO VERY GLAD YOU DID.
Pre-registration required. For questions or assistance:
Email support@deborah-kagan.com or Phone 323-650-4433, ext. 102
---
coming soon - ORLANDO, FL
coming soon - ATLANTA, GA
coming soon - ASHEVILLE, NC
coming soon - PORTLAND, OR
A portion of all tour stop proceeds goes to the VDAY.ORG charity, in service to ending violence to women and girls.
* If you don't see your city and would like me to come for a tour stop, contact support@deborah-kagan.com and we'll get in touch with you to discuss the possibility *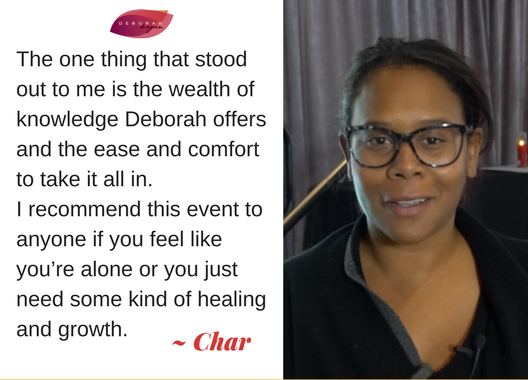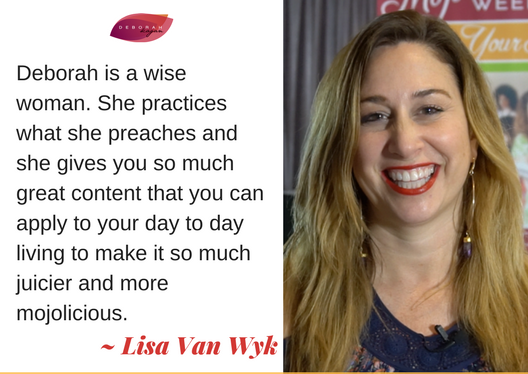 ABOUT THE MOJO RECOVERY SPECIALIST
With years of practice being a turned-on woman, Deborah Kagan helps women tap into their innate power and connect with their mojo, which is the source of true self-esteem. From this place, women gain increased enthusiasm for life allowing for great self-confidence resulting in the ability to earn more money, reduce stress and create thriving relationships (personally and professionally).
She is the Best Selling author of Find Your ME Spot: 52 Ways to Reclaim Your Confidence, Feel Good in Your Own Skin and Live a Turned On Life. Her methods combine over 20 years of information and experience in the fields of personal development, metaphysical studies and embodiment practices. For 12 of those years, she exclusively focused on "Healing the Planet – One Space at a Time™" through her career as a high-end Feng Shui consultant for clients including NBC, Disney, Bellagio Hotel, CAA and William Morris Agency.
Deborah is a popular guest speaker on the topic of M.O.J.O. and how to transform all areas of your life – personal, business and spiritual — into one of creativity, passion and wealth. She's been interviewed in the media on the likes of KTLA Morning News and Dr. Drew Midday Live.
As a philanthropist and community activist, Deborah is on the advisory board of Peace Over Violence and is the founder/executive producer of VDAY Santa Monica, a benefit raising awareness and funds to end violence against women and girls.
INSTAGRAMFACEBOOKTwitter