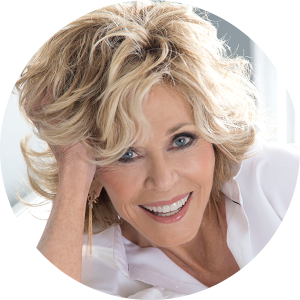 Two-time Academy Award® winner (Best Actress for Klute and Coming Home), three-time Golden Globe® winner, and recipient of the 2014 AFI Life Achievement Award. Otherr credits include The China Syndrome, Nine to Five, On Golden Pond, The Butler, Better Living Through Chemistry, This is Where I Leave You. She received a Tony Award nom for her role in Moisés Kaufman's 33 Variations.
Fonda revolutionized the fitness industry with the release of Jane Fonda's Workout in 1982. 23 home exercise videos, 13 audio recordings, and seven bestselling books – selling 17 million copies all together. The original Jane Fonda's Workout video remains the top grossing home video of all time.
For three seasons Fonda appeared as media mogul Leona Lansing in an Emmy nominated performance in The Newsroom, on HBO. Fonda also stars in Netflix's Grace and Frankie, (Emmy nom in 2017) which premiered its fourth season last month. Jane Fonda in Five Acts, a documentary chronicling her life and her activism, world premiered at Sundance Film Festival 2018.
Most recently, Jane celebrated her 80th birthday by raising $1.3 million for her nonprofit, the Georgia Campaign for Adolescent Power & Potential, which works to lower the teen pregnancy rate in the state of Georgia and improve the overall health and well-being of young people in the state.