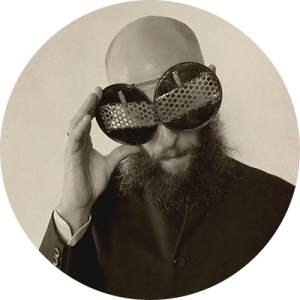 Jeremy Sole is on a mission to show how music is a singular universal language, and that each culture's rhythms and melodies are no more than slang–different accents of the same mother tongue. His DJ sets, remixes and original compositions juxtapose world sounds and experimental beats into a sonic ritual – a celebration of life out loud.
In 2001 Sole moved to Los Angeles, and with his broad musical palette, felt right at home in the spiciest melting pot in the U.S.

As Co-Founder and resident deejay of "Afro Funké", Sole and his partners drew a loyal crowd every week for 10 years. This was his arena for Afrobeat, Latin, Brazilian, Indian, Jamaican and other authentic and remixed world rhythms. Hundreds of international guests joined them over the years, from deejays Rich Medina and Cut Chemist to impromptu jam sessions with Zap Mama and Stevie Wonder.
Jeremy has had the honor of sharing the stage and recording in the studio with hundreds of his inspirations, including Roy Ayers, Stevie Wonder, Seu Jorge, Fat Freddy's Drop, Parliament, Lee Scratch Perry, and Quantic. Gilles Peterson (BBC Radio1), widely known as the most influential tastemaker of our generation, named Sole as "#2 DJ OF THE YEAR 2011" as well as "RADIO SHOW OF THE YEAR 2014". in January 2017, Peterson expanded his new, award winning "Worldwide FM" radio to feature an ongoing series from around the world, and hired Sole to host, mix, and produce the weekly 6-hour L.A. show.
Sole had the distinct honor of mixing at the California Democratic Party's Election Night Celebration – performing for over 10,000 people at the exact moment when Barack Obama officially became the 44th President. You can tune into Sole every Wednesday at midnight in Los Angeles on 89.9 KCRW (or worldwide, streaming and archived at www.kcrw.com/jeremysole).